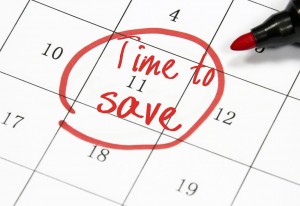 Whether a wedding, a convention, or…well, any event for that matter, it is important to give your potential attendees advanced notice. At least this is true if you want a well-attended event. People nowadays are busier than ever before, juggling work, the kids, fun (whatever that is), and all of their other responsibilities in life. These people need plenty of advanced notice in order to fit your event into their busy lives. And sometimes an invitation just isn't enough notice. This is where Save-the-Dates come into play.
Save-the-Dates come in many varieties and will need to be designed according to your event. Obviously, a Save-the-Date for a wedding will be drastically different from a Save-the-Date for a business conference. So how can you ensure your Save-the-Dates are appropriate for your event? Time Printers, of course!
Professionally Printed Save-the-Dates from Time Printers
Planning a special event can certainly elevate your stress levels. Let Time Printers take some of the burden off of you. Time Printers is a full service printing products and services business located in Baltimore, Maryland. Our experienced sales team can help you design Save-the-Dates that will help make your event a successful one.
Click Here for a FREE quote!
We also offer invitation design and printing, and other event materials. We can prepare a customized event package encompassing all of your printing needs in an affordable manner without compromising quality.
Professionally Printed Save-the-Dates Help Send the Right Message
Nowadays, people often plan vacations, business trips, and family outings months in advance in order to save money on airfare and other such travel expenses. To ensure your potential guests become your eventual guests, you need to give them plenty of notice of your event. And invitations just aren't going to cut it. You need something to go out sooner rather than later. You need Save-the-Dates.
Save-the-Dates do not replace invitations, but instead serve to give guests extreme advanced notice of your event. The Save-the-Dates will ultimately be followed by the more formal invitations down the road.
To learn more about Professionally Printed Save-the-Dates, please give us a call at 410.566.3005 or click here.  You can also connect with Time Printers on Facebook, Twitter, Google+ and Pinterest as well.
Tags: Save-the-Dates