Marketing your business needs to be done professionally, it's important to make sure that you message is prevented clearly with a beautiful marketing concept.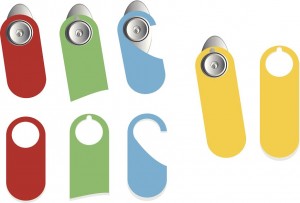 One of the best ways to do that is with a door hanger. A door hanger is a genius marketing tactic because you can drop off your materials on the every door you pass without even needing to pitch an idea.
If someone sees your product (which we will help design a fabulous door hanger for) and they want whatever product you are selling, they will contact you.
With a door hanger as a marketing tactic, the calls will be rushing in.
Other great marketing tactics are:
About Time Printers
Time Printers is a Baltimore, MD family full service printing products and services business. We have extensive knowledge of the printing industry and deep seeded community roots. With our quality printing products, quick turn around and outstanding customer service, your business advertising cannot go wrong. Time Printers is constantly challenging ourselves to stay on the cutting edge of the industry's standards without giving up their personal touch. We offer the newest technology while at the same time adhering to our extensive history and timeless traditions.
Call Time Printers today to print your business cards at 410.566.3005 or click here.
We are located at 227 N. Warwick Ave., Baltimore, MD 21223
Connect with Time Printers today by checking us out on Facebook, Twitter, Google+ and Pinterest as well.