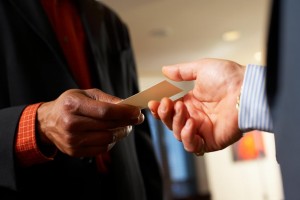 In an increasingly digital world dominated by social media sites, such as Facebook, Twitter, and LinkedIn, your biggest networking tool is still that tiny piece of paper you carry around in your pocket: your Business Card. It is the only sure fire way to ensure your business connections remember who you are. After all, if you have ever been networking in the Baltimore area, you know just how many people you can meet at a single event. Without any easy method for exchanging information (a la business cards) connections are lost almost as quickly as they are made.
Know the Secret to Networking in Baltimore? Custom Business Cards!
Business cards allow you to easily exchange information and stay in contact with potential connections. But if you really want to make an impression, you need to invest in Custom Business Cards.
Convenience: First and foremost, business cards are a convenient way to exchange contact information. Everything a potential business connection needs to know is contained on that little 3.5 inch by 2 inch card: name, company, phone number, email, and whatever other relevant information you feel is important.
Credibility: Try making a business connection without a business card. See how seriously you are taken…
Branding: When you choose custom business cards, you choose to take your branding to the next level. Design a business card that represents you and your business. Don't settle for a boring white card. Be unique. Remember, the more unique the card, the more likely the business connection will remember you. Business cards are a tiny form of advertising.
And More!
Get Custom Business Cards in Baltimore
Time Printers is a full service printing products and services business. Allow our sales team to help you design custom business cards for your company, cards that will help you make lasting impressions with potential contacts.
We have extensive knowledge of the printing industry and our quality products prove time and time again that we are not just printers, we're innovators.
To learn more about Custom Business Cards, give us a call today at 410.566.3005 or click here. You can also connect with Time Printers on Facebook, Twitter, Google+ and Pinterest as well.