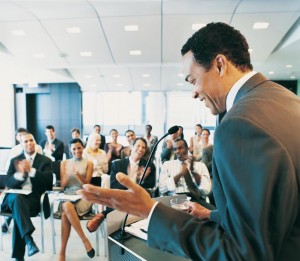 When hosting a conference, meeting, or other event, you need professionally printed materials – conference guides, schedules, signs, name tags, etc. – to give your event a professional look and feel. But you don't have the time and energy to give conference printing the attention it deserves. You have so much else to worry about, from arranging the onsite staff to finding a caterer to booking your keynote speaker, and so much more. The last thing on your mind is printed materials. But without aesthetically pleasing printed materials you run the risk of looking unprofessional. Fortunately, that is why you have Time Printers. Let us handle the design and printing of your conference materials while you focus your attention on the bigger picture.
Conference Printing Services in Baltimore
Time Printers is a full service printing products and services business located in Baltimore, Maryland. Our experienced sales team can help you design conference materials that will help make your event a successful one. At Time Printers, we feel our job is making you look good.
Click Here for a FREE quote!
Time Printers is a company you can trust with your conference printing needs.
The Benefits of Printed Materials
Even in today's technologically driven world, printed materials still make a difference, especially when it comes to running a successful conference. There are several printed materials that will help enhance the experience of your attendees.
Event tickets. Time Printers provides professionally printed tickets in a variety of colors and sizes. We can provide numbered tickets, as well as tear off stubs for raffles, and so much more. Click Here to learn more.
Programs and Schedules. It is important that your attendees know what is going on, when it is going on, and where it is going on. Programs and schedules are an aesthetically pleasing and cost effective way to keep your attendees well-informed. Time Printers has extensive experience with program booklets. We can even help with the design and layout to ensure an attractive piece with an affordable price tag.
Signs. It is easy to get lost amongst the hustle and bustle of a conference, especially a well-attended conference. Strategically placed signs can help direct your attendees where they need to go. Here at Time Printers, we are confident that we can meet all of your signage needs in a timely and affordable manner.
Badges and Name Tags. Name tags can help make introductions quick and easy. And your attendees will not have to worry about remembering dozens of names.
And More!
In the world of printing, there are literally a myriad of options. If you have a specific need not found on our site, do not fret. In all likelihood, we can still help.
To learn more about Conference Printing Services in Baltimore, please give us a call at 410.566.3005 or click here.  You can also connect with Time Printers on Facebook, Twitter, Google+ and Pinterest as well.