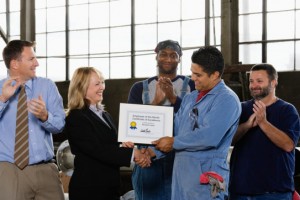 There are many ways to celebrate your achievements; acknowledging your success is crucial. One great way to do so is by printing certificates to commemorate your accomplishments. Here are some reasons why certificate printing is beneficial for your business needs.
Certificate Printing Is Inexpensive  
Getting certified is essential and can be done without breaking the bank. A certificate can enhance one's image and make one look more impressive. Certificates are a more economical alternative to other awards, such as plaques and trophies. Since they are affordable, you can print multiple copies simultaneously. This is particularly beneficial when fulfilling large orders within a tight deadline, especially with the end of the academic year nearing.
You Can Customize Certificates 
Printing certificates has many advantages, such as fully personalizing them. With certificate printing, you can include graphics and other decorations to make each certificate unique. Furthermore, you can customize each certificate by printing the recipient's name the reason for their achievement, and even incorporate branding and logos if the award is for service from their company or the military. This allows for more than just recognizing someone for graduating from school.
Easy to Display 
Displaying certificates is a simple task. Obtaining a frame for a diploma or certificate is an easy process. Hanging it on a wall is a convenient way to showcase the certificate, regardless of the reason for receiving it. Alternatively, it can be placed on a mantlepiece above a fireplace. Certificates signify a significant accomplishment for individuals and can be a source of pride when guests visit your home.
Certificates Are Versatile
Are you looking for a way to celebrate the graduation of multiple students at once? Certificates and certificate printing can help you achieve this, whether you have several children simultaneously finishing middle school, high school, or college. Certificates can also recognize exceptional academic performance, allowing teachers to benefit, even if they have to be mailed instead of presented in person. Additionally, businesses can utilize certificate printing to honor their outstanding employees.
Let Time Printers Assist You with Your Printing Needs for the Rest of 2023!
Whether you already know how your latest print products should look or want further advice, Time Printers is here to help! We service all of Baltimore, Hunt Valley, and Towson. Our team of professionals can answer all of your burning questions. Give us a call at 410-566-3005, and be sure to follow us on Facebook, Twitter, Pinterest, and LinkedIn for tips and see what we have been working on and what we can do for you. We hope to hear from you soon!
Tags: Certificate Printing, certificate printing benefits, commercial printing