The holiday season is in full swing. While you may be receiving many gifts this year, it is important to remember to write a thank you note. Writing a thank you note can be done in many different ways. However the most personal is to handwrite a note on custom stationary. In addition to looking beautiful, your custom stationary from Time Printers will help let someone know how thankful you are for their gift.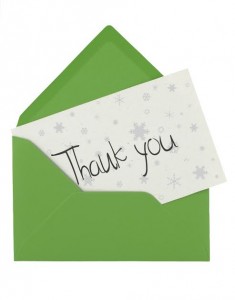 Your custom thank you card will help you stand out for the rest and provide you with a beautiful space to send your message. In addition, the thank you note card will be tailored to your personality and unique interests giving it a layer of depth that cannot be achieved from a store bought thank you card.
About Time Printers
Time Printers is a Baltimore, MD family full service printing products and services business. We have extensive knowledge of the printing industry and deep seeded community roots. With our quality printing products, quick turn around and outstanding customer service, your business advertising cannot go wrong. Time Printers is constantly challenging ourselves to stay on the cutting edge of the industry's standards without giving up their personal touch. We offer the newest technology while at the same time adhering to our extensive history and timeless traditions.
Call Time Printers today for Poster, Banner or Sign Printing at 410.566.3005 or click here.
Connect with Time Printers today by checking us out on Facebook, Twitter, Google+ and Pinterest as well.