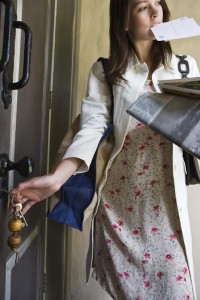 As a Baltimore business owner, you cannot survive unless you constantly attract new customers. This is especially true if you work in the food industry. The problem: you do not have a large marketing budget. In fact, you don't even have a marketing department. Yikes! So how do you get the word out about your restaurant without breaking the bank? The answer: Door Hangers, the oft-forgotten weapon in the small business advertising arsenal.
The Marketing Benefits of Door Hangers in Baltimore
Door Hangers Are Low Cost
Because of their rock-bottom printing costs, door hangers are a favorite of the cost-conscious business owner who wants to get the most bang for his buck. They allow you to reach a large amount of people for a little bit of money. That's what we like to call a win-win! They are also easy to distribute. That's another win!
Door Hangers Are In Your Face! Literally…
Other forms of marketing aren't guaranteed to reach their target audience. Just think about how easy it is to change a television channel or radio station when a commercial comes on. Now think about door hangers. They are in your face. In order to enter your home, you have to look at them.
According to the United States Postal Service, 98% of people bring their mail in each and every day and 77% sort through it immediately. The percentages for door hangers are even higher. They are impossible to ignore!
Easily Customizable
What do you want your door hanger to say? Do you have a special promotion you want to get out to the public? Door hangers are easily customizable to fit your marketing needs.
And So Much More!
Professionally Printed Door Hangers in Baltimore
Time Printers is a family full service printing products and services business. With our quality printing products, quick turn around and outstanding customer service, your business advertising cannot go wrong. Our high tech equipment combined with durable, gloss material will produce a door hanger that is both impossible to ignore and durable enough to stand up to the elements.
To learn more about Door Hangers, give us a call today at 410.566.3005 or click here. You can also connect with Time Printers on Facebook, Twitter, Google+ and Pinterest as well.