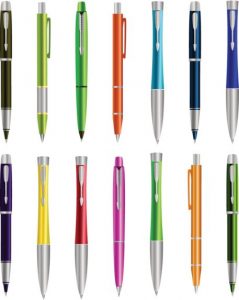 Your business strategy should include advertising and marketing, which usually take up a significant portion of your budget. However, paying attention to the value of promotional items is essential. To enhance your marketing strategy, consider incorporating some of these examples of promotional items.
Pens
Pens remain a top promotional item for a reason. They are relatively inexpensive, especially when purchased in large quantities, and they effectively promote your brand. When we use a pen, we naturally look at the text on it, making it an ideal tool for advertising. Additionally, people tend to collect pens they use in public, increasing exposure for your brand. Consider the number of individuals who would see your brand on a pen and think of your business daily.
Water Bottles
A water bottle is a popular and practical item that can be used repeatedly. Branded water bottles are a great promotional tool for businesses involved in outdoor activities and fitness. As more people choose reusable water bottles over plastic ones, this product is an excellent choice for consumers.
Reusable Bags
Reusable bags have become a popular item in everyday life and make for a great promotional product, regardless of industry. Although reusable totes were initially popular at grocery stores, they are now helpful for carrying informational booklets and other printed materials at trade shows or anywhere else.
Personal Protective Equipment 
Promoting your brand through personal protective equipment is still highly sought after as we navigate the ongoing pandemic. You can customize masks, portable hand sanitizer bottles, and tissue packs with your logo. Opting for functional items as promotional products is an intelligent decision.
Let Time Printers Assist You with Your Printing Needs for the Rest of 2023!
Whether you already know how your latest print products should look or want further advice, Time Printers is here to help! We service all of Baltimore, Hunt Valley, and Towson. Our team of professionals can answer all of your burning questions. Give us a call at 410-566-3005, and be sure to follow us on Facebook, Twitter, Pinterest, and LinkedIn for tips and see what we have been working on and what we can do for you. We hope to hear from you soon!
Tags: marketing, pens, promotional items